Hello, blinking cursor. It's been a while. But grades are in, the sun is out, and my free time (and urge to write) has been freed from the grubby clutches of another crop of community college students. It's time to write again. I figure a good way to start would be to share some music recommendations with the fine citizenry of the internets. So, fine citizenry, put the gossip site/fantasy team/porn video/whatever on hold for a few minutes and check out some sweet summer jams, courtesy of me. Good for beach bummin', pool partyin', and/or road trippin'. Let's dig in. Alphabetically, as always.
Honorable Mentions:
Childish Gambino -
EP
(aka Donald Glover aka Troy from
Community
aka the best show on TV right now), Dave Hause -
Resolutions
(aka the lead singer of The Loved Ones), The Lonely Island -
Turtleneck & Chain
(just got it, but loving it so far -- also,
this
) Peter Bjorn & John -
Gimme Some
(you might know them as 'the band that did
that song with the whistling
'), The Sounds -
Something to Die For
(female vox, very danceable).
Daybreaker -
The Northbound Trains EP
Genre: Punk/Folk/Acoustic
Standout tracks: "The Way Up North," "Where I'm Supposed to Be," "City Lights"
Although I don't really much know about this band (downloaded the EP on a whim from a music leak site), this has fast become one of my favorite releases of the year. In the same vein (philosophically if not acoustically) as personal favorites Lucero and The Gaslight Anthem, Boston-based Daybreaker plays earnest, unpretentious rock 'n' roll that claims blues, folk, and punk influences. This is the kind of stuff that makes you tap your foot and sing along with the window down (just watch the brake pedal) from the kind of band you'd love to see in a shitty dive bar on a Friday night (I'm thinking the Yucca Tap). I can't wait to hear more from these guys and am eagerly anticipating a full-length and some West Coast tour dates.
Someone kindly uploaded "Where I'm Supposed to Be" onto YouTube:
The Decemberists -
The King Is Dead
Genre: Indie/Folk
Standout tracks: "Don't Carry It All," "Rox in the Box," "Down by the Water," "This Is Why We Fight"
This is one of two records from this year that have already made their way into my regular rotation (the other is next). You know, that upper 5% of albums that you can listen to anytime, anywhere, the album's you'll want to pass on to your friends (or down to your kids). I knew it would from the opening harmonica wail of "Don't Carry It All" and had it confirmed again during the opening of "This Is Why We Fight" and countless times in between. This isn't The Decemberists at their creative peak (
Picaresque
) or even at their best (
The Crane Wife
), but at their most focused. No lyrical embellishments, baroque arrangements; no nine-minute songs about fisherman, no prog-folk fairy tale concept album -- just a short, sweet, unadorned folk-rock masterpiece. Makes me want to go out to the farm and, I don't know, plant shit or milk a cow or wear overalls. See the stars shine overhead. That kind of thing. Just listen and you'll get it.
Start with "This Is Why We Fight":
The Foo Fighters -
Wasting Light
Genre: Rock
Standout tracks: "Bridge Burning," "Rope," "Dear Rosemary," "Walk"
Blah, blah, blah, Kurt Cobain, blah, blah, blah. It really pisses me off that you can't read a review for this album (or any Foo album) without having Nirvana references shoved down your throat (and I realize I'm only adding to it here). You know what? I don't really like Nirvana. Never have. I'll give 'em credit for helping usher out hair metal... but was grunge really that much better? At least hair metal gave us
"The Final Countdown"
(and I mean that with all sincerity). Grunge gave us flannel shirts and Courtney Love. Thanks for nothing, assholes. Oh well, I'll settle for the Foos as a consolation prize. In all honesty, this album's pretty much more of the same from Grohl and Co. (now with Pat Smear back in the fold) -- big hooks, anthemic choruses, pummeling rhythms -- but I'll take another Foo record every few years for the rest of my life. Grohl is like Tom Petty that way (a comparison I'm seeing made more and more lately). Even though they sound nothing alike, they're both equally capable of cranking out songs/albums that are solid at the worst and iconic at their best (and this one's closer to iconic than solid -- just listen to the opening track... and that album art!) until they die. I'll bet the Foos are still selling out arenas in 20 years like Petty is now. I'm definitely looking forward to it.
Check out "Rope":
Lenka -
Two
Genre: Singer-Songwriter/Pop
Standout tracks: "Two," "Heart Skips a Beat," "Blinded by Love," "Shock Me into Love"
...and now for a change of pace. In addition to hipsterish indie and testosterone-fueled guyrock, I've also cultivated a taste for twee girlypop. Scattered throughout my iTunes, you'll find such gems as Kelly Clarkson, Vanessa Carlton, Sara Bareilles, Lily Allen, Katy Perry, etc. Again, I'm being sincere here. However, my taste in such girlypop is discerning, but in no particular way -- I love all of the above, but you won't find anything by Avril Lavigne or Lady Gaga anywhere near my music collection. As a matter of fact, I can't stand 'em. Nothing will get me out of a room faster. Lenka, on the other hand, is definitely someone I can get behind, if you know what I'm saying (doggy-style sexual intercourse if you don't). I also enjoy her music very much. You might already be familiar with
"The Show"
from her first album (and you should familiarize yourself with it if you are not). Her appropriately-titled second album continues in the same tradition -- syrupy-sweet vocals ("And THAT'S how you get ants!"), eclectic arrangements, and eminent catchiness (seriously, some of these songs are harder to get rid of than some of the more virulent STDs... like ants). Check it out if you think you can handle it.
"Heart Skips a Beat" is a good a place to start as any:
Meg & Dia -
Cocoon
Genre: Indie/Pop/Rock
Standout tracks: "Bandits," "Unsinkable Ships," "Breakdown," "Summer Clothes"
Meg & Dia have me at a loss. I'm really not sure who's supposed to like them, what their demographic is. Just by
looking at them
, you'd think they were manufactured pop stars. But they write their own songs and play instruments. They play at the Warped Tour to young and angry crowd, but their (sometimes clumsy) lyrics allude to sex and literature, things probably over the head of the typical pissed-off 14-year-old (and probably the obnoxiously drunk 30-year-olds too). They're kind of a confusing band. Evidently, the record labels agree with me, because they were dropped from their major label not too long ago. They're still cranking out hard-to-label records though, as evidenced by this year's excellent
Cocoon
. Running the gamut from, indeed, twee girlypop and radio-friendly rock to ambling country and spare folksy numbers, the album has something to offer everyone. My personal favorite is "Bandits," a song that leans more towards the "spare folksy" end of the spectrum about lovers run afoul of the law. I seriously listened to it about 8 times in a row the first time I heard it. I invite you to below. Enjoy, if you're into that sort of thing.
As promised, "Bandits" (I don't know why they're on bikes):
Social Distortion -
Hard Times and Nursery Rhymes
Genre: Punk/Rock/Blues
Standout tracks: "California (Hustle and Flow)," "Machine Gun Blues," "Bakersfield," "Can't Take It with You"
I was never actually really big into "Social D" (in the parlance of our times). They were always one of those bands I enjoyed in passing, but their albums always had that dreaded "samey" feel to them (although friends have leveled that charge against Bad Religion, and they're not entirely off target, so who knows). That was before I heard this album though. Their sound (which always sounded kind of lackadaisical for punk to me) has been infused with some kind of shitkicking, downhome, almost Southern rock energy. Here, Social D sounds like what I'd imagine Ruckus (from the criminally underappreciated, and criminally overdramatic
Elizabethtown
) would sound like on record (and yes, I realize Paul Schneider's backing band is My Morning Jacket). Driving, almost bluesy rhythms, guitars that wail and sing instead of simply grind, and a chorus of female backing vocalists -- add Mike Ness's indistinguishable vocals to it all and the result is a fresh perspective on a band and a scene (California punk) that has flagged in recent years (Bad Religion's outstanding record last year not withstanding). This record is definitely on my playlist for summer road trips.
Put "Machine Gun Blues" in your pipe and smoke it (or in your iTunes and listen to it):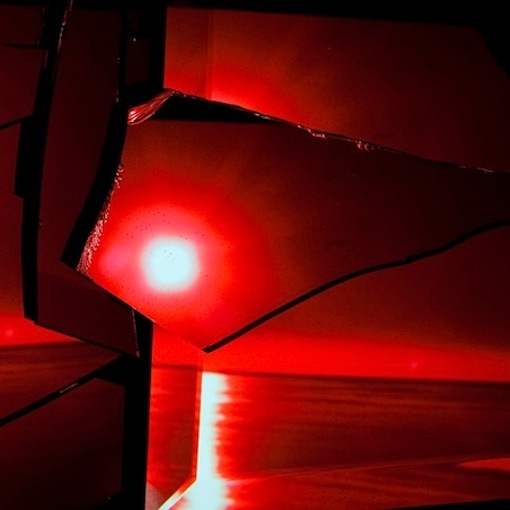 TV on the Radio -
Nine Types of Light
Genre: Indie/Experimental
Standout tracks: "Second Song," "No Future Shock," "New Cannonball Run," "Repetition"
Some of my favorite things about this record: The title, the cover, the fact that the first song is called "Second Song," the horns on "Second Song" and how they kind of meld with the vocals after a while, the dueling senses of ominousness and playfulness, the crisp instrumentals and funky electronic flourishes, the title "Caffeinated Consciousness," and, finally, my favorite line of the year so far: "What's the matter with your next door neighbor? I heard he has sex, drugs, and danger." This tells me two things: 1) I need to get new neighbors, and 2) lead singer Tunde Adebimpe (who you might remember from
Rachel Getting Married
-- underrated flick) is a lyrical badass. In addition to lyrical badassery, he spends the record exploring all types of vocal stylings -- singing, rapping, screaming, crooning, he does it all. Just as his bandmates explore all genres and tempos. This record is as multifaceted as its cover would suggest.
Check out "Second Song" for one of the above-mentioned facets:
2011's been a solid year for music so far, and there's more good stuff on the horizon. Here's some that I'm looking forward to (physical release date in parentheses):
Death Cab for Cutie -
Codes and Keys
(May 31)
Arctic Monkeys -
Suck It and See
(June 7)
Vanessa Carlton -
Rabbits on the Run
(June 21)
Incubus -
If Not Now, When?
(July 12 -- already heard it, and digging it so far)
And supposedly the Red Hot Chili Peppers and New Found Glory will have new stuff in the late summer. We'll see how RCHP (not the correct abbreviation, I know) do without Frusciante...
...aaaand I'm done. Assume these last few lines would have been something clever if it weren't so late. I hope you enjoyed reading. Let me know what you think of these records and if there are any you like that I didn't list. I love getting music recs even more than giving them! Until next time.